Nestled in the Hahndorf Hills is an extraordinary winery that takes wine tasting to a different dimension.  The Hahndorf Hill Winery offers wine matching tastings with food and chocolate.  The menu options are varied – there are many offerings to tantalise your tastebuds.
This is a foodie's paradise and you could eat here every Sunday for a month and still not discover everything on the menu.
These entrepreneurial winemakers have imported some Austrian grape varieties which grow well in the local soils.
We chose a wine and food tasting as well as a chocolate and wine tasting.  We had the "Gru 2" Gruner Verltliner (2013), "Zsa Zsa" Zweight Rose (2014), "Blue Blood" Blafrankisch (2013), and the Compatriots (2103) for the wine and food matching.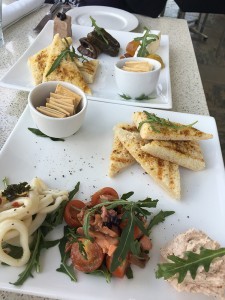 The foods are fresh and the flavours are clean.  The focus is on blending the various wine flavours with food.
The "Gru 2" is not too sweet, not too dry, but just right.  This wine matches well with chicken breast and a light salad.  It would also do well with a steamed white fish (but no oily fish).
The "Zsa Zsa" is better than a Rose, almost sparkly with a warm palette. This wine would match with a salad, turkey, salmon, camembert (or other soft cheeses) with stone fruit.  This rich flavoured wine can be supported well by a rich flavoured white meat.
"Blue Blood" is a well-rounded mellow red which will suit most flavours.  It works well with a roast lamb or perfectly cooked steak with roast vegetables or a salad.
The "Compatriots" is a well-rounded red that suits all flavours well without the palette being lost.  Its strong flavour supports strong flavoured meat like lamb, beef and even kangaroo.
I urge you to visit the Hahndorf Hills Winery and discover the varieties that you like the best to accompany your summer barbecues and entertaining.  The Hahndorf Hill Winery is located at Pains road, Hahndorf and is open from 11 am to 5 pm.  Add this magnificent winery to your Sunday drive.