It was a beautiful day for a drive in the Adelaide Hills (South Australia) and our stop was the Hahndorf Hill Winery for lunch and a special experience – ChocoVino (Chocolate and Wine tasting experience).
My wife and I were treated to two beautiful food platters of local produce that was expertly matched to their unique and sophisticated wines.
The Savoury Platter consisted on a pate, stuffed vine leaves, cheese with crystallized ginger, crackers and herb bread.  The beautiful pate came with pickled pepper berries that were amazing.  I had to ask for the brand of these berries as they blew my mind with awesome inspiration on future recipes.
My wife loved the cheese as I can't eat cheese due to my intolerance to lactose, but I experimented with the crystallized ginger and the Hahndorf Hill Wineery Blaufrankisch – Blueblood red wine.  The combination was simply amazing.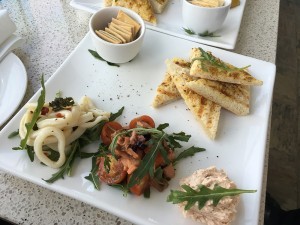 The seafood platter had salmon mousse, pickled calamari, salmon salad, herb bread and crackers.  The salmon salad was very good and went well with the mousse and the calamari.  Overall the platter was very well balanced.
I found that the Gruner Veltliner – GRU2 was an excellent match with this platter.
We found that the best way to experience these platters is with a wine flight.  The team at Hahndorf Hill Winery helped us select an appropriate flight to maximise the experience.
We chose two wine flights to ensure we got a good coverage of the extensive range at Hahndorf Hill Winery.
The flights consisted of:
"Gru 2" Gruner Verltliner (2013)
"Zsa Zsa" Zweight Rose (2014)
"Blue Blood" Blafrankisch (2013
Compatriots (2103)
Single Vineyard Shiraz (2013)
Watch out for our other articles on the Hahndorf Hill Winery.